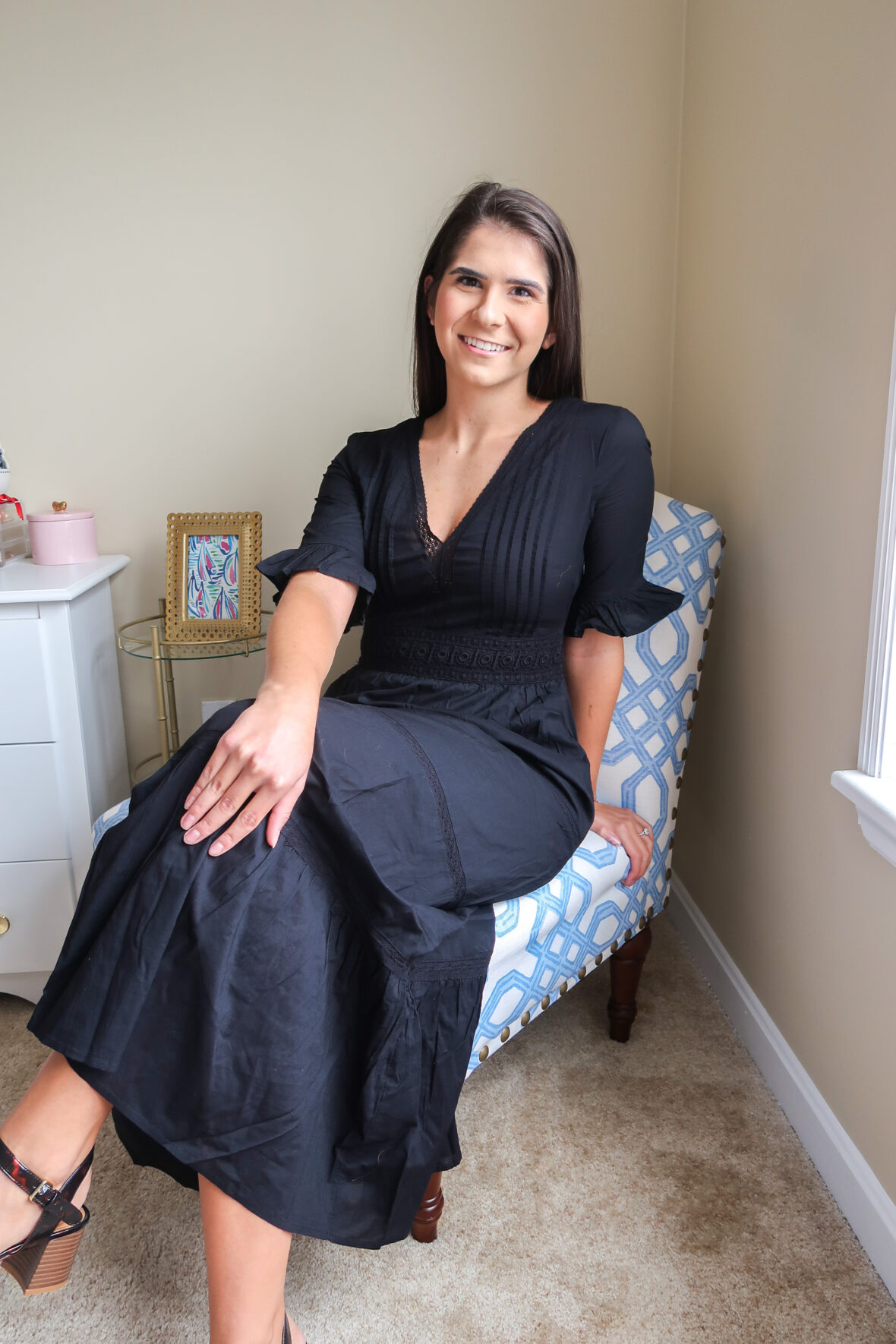 Today is the start of a super fun series here on my blog! For years I have been curious about personal shopping services, more specifically ones that are affordable for the average person. So I've decided to create a series about trying these services and giving my unbiased thoughts to you!
This week I am trying out Amazon's Personal Shopper service. I thought this would be the perfect time since we are slowly transitioning into fall and since I've lived in Florida the past 3 years my fall and winter clothing options are slim to none lol. Hopefully with the help of some personal shoppers I'll get some new pieces I love!
Just like any other styling box, for Amazon's Personal Shopper service I started off by taking a quiz. The quiz consisted of asking my opinion on certain looks, asking how often I dress a certain way (casual, edgy, classic, boho, etc.), what brands I have in my closet, what colors and patterns I DO NOT like to wear, and even how often I wear certain articles of clothing (dresses, shorts, skirts, jeans, etc). Then it went into the fit of items. They asked what body shape I have, how I like certain articles of clothes to fit, what areas I want to highlight, my height and weight, as well as what sizes I wear in different articles of clothing.
You also get to pick price ranges of each article of clothing. And throughout the quiz there are a few text boxes as well that give you the opportunity to write notes to your stylist about fit, what you're looking for, and whatever else you want to write.
An Overview
Cost $4.99/month – can cancel at any time
7-day trial period – one week after receiving the pieces you ship back what you don't want to keep
You can preview the picks from your stylist – you can select what is or isn't shipped to you, you are required to pick a minimum of 1 item and a maximum of 8
What I Got
I decided to pick 8 out of the 14 pieces that were picked for me by my stylist.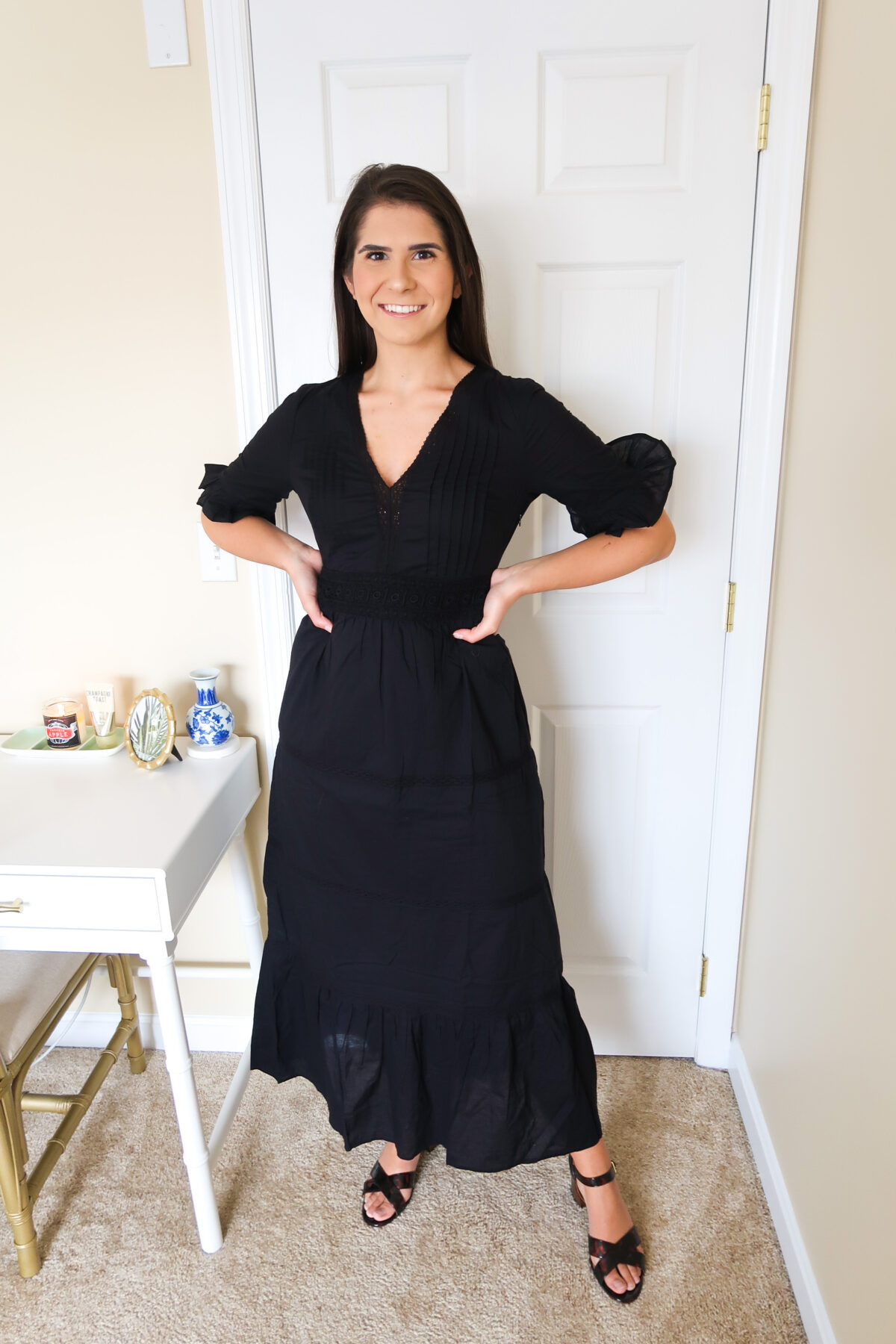 I really love this black dress. I rarely wear back, except during the holiday season, but I really loved this dress! The fabric is flowy and lightweight – making it perfect to transition from summer to fall. This would be a great piece for my readers in Florida. It's hard to tell in this pic, but the top has some nice details as well, plus I love the sleeves. The dress is by the brand 'find." which from my understanding is an Amazon brand. It currently retails for $54.49 and while the tag doesn't have a size on it, I believe it's a size S.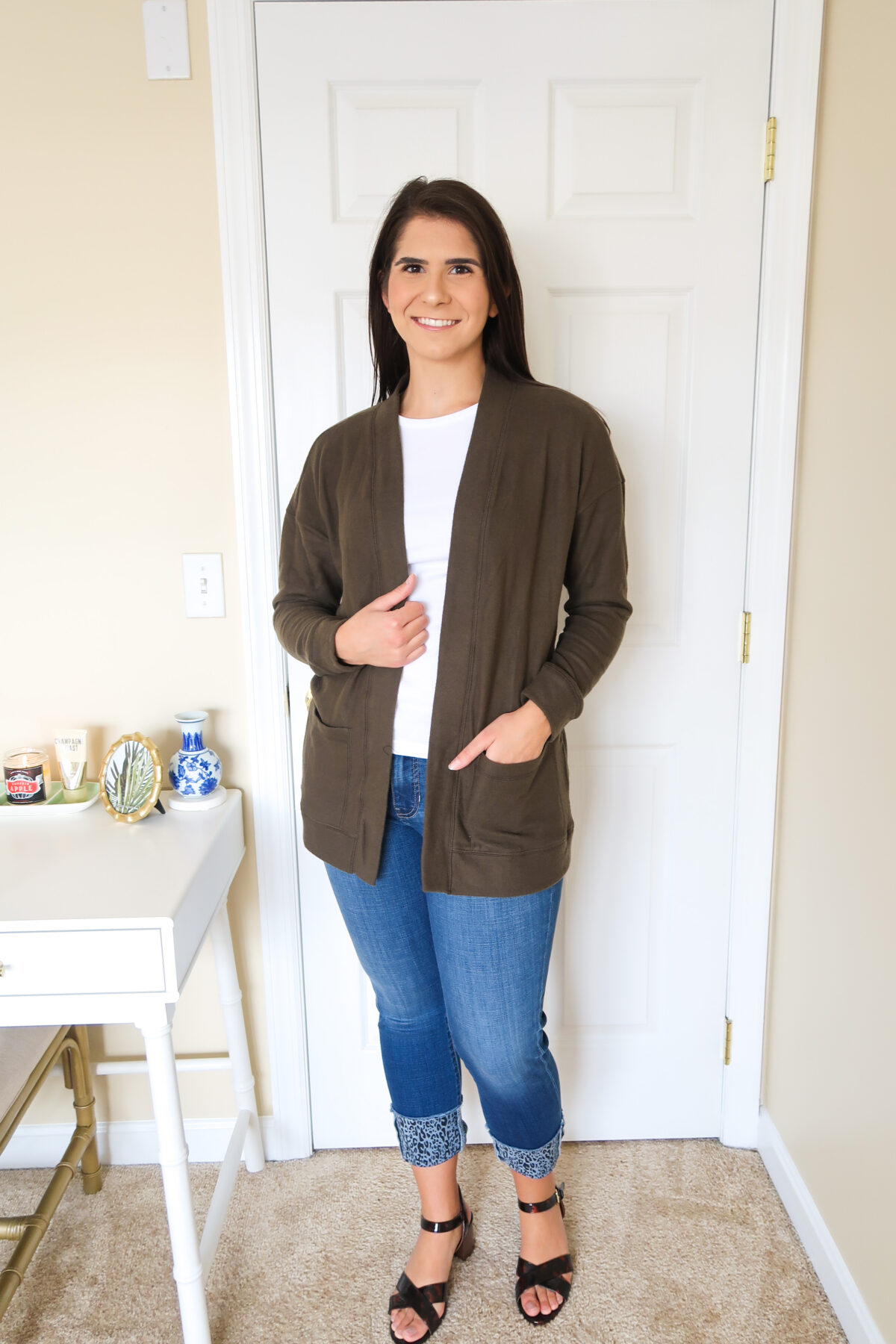 When reviewing the finds from my stylist, this cardigan was listed to go with the black dress. I personally wouldn't wear these together, since the dress has nice ruffled sleeves, plus the cardigan is a bit oversized. However, I really like it with just jeans and a tee. It is extremely soft, I love the color for fall, plus it is only $20.27 (but the tag says $79.50!). It's by Lucky Brand and I'm wearing a size S.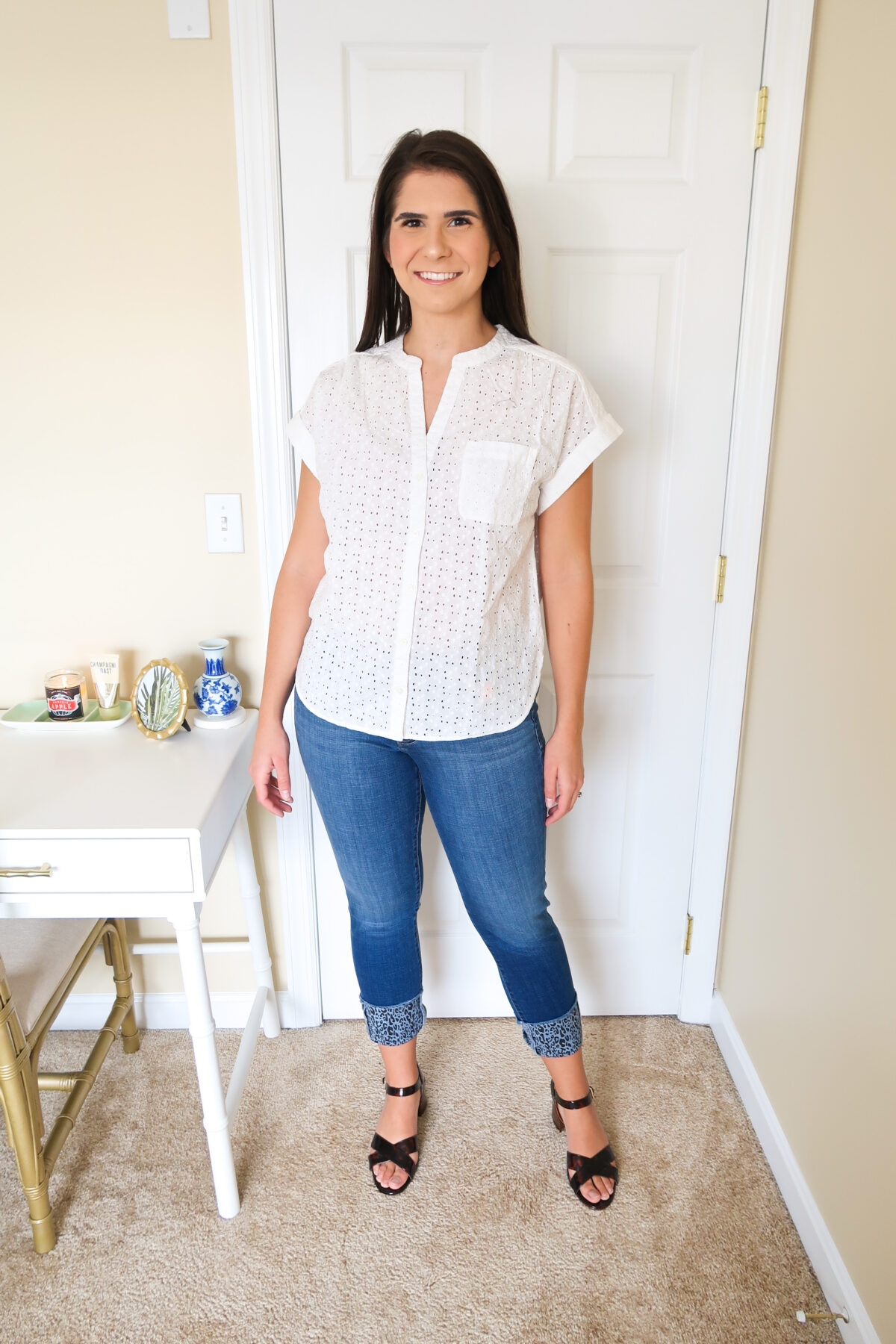 My stylist picked out this short sleeve eyelet top from J.Crew Mercantile – which is a brand I love and shop often! I was excited to see that she read my style right, however I often wear an XS in J.Crew so I knew this would probably be a bit big on me. I also took a huge gamble by grabbing the jeans she paired with them, by the brand Jag Jeans. I have a really hard time finding jeans, they're often too tight on my thighs. Because of this I said my jean size was a 6, however these were too big on my waist and I could have easily gotten a 4. I actually wish I would have gotten a 4 sent to me because I probably would have kept them – they are very comfortable and fit really well! These pieces, in my opinion, were a bit overpriced for what they were though. The top was $51.04 and the jeans were $94. Additionally, the top is more spring and summery so I don't think this is a great fall piece, which is what I requested.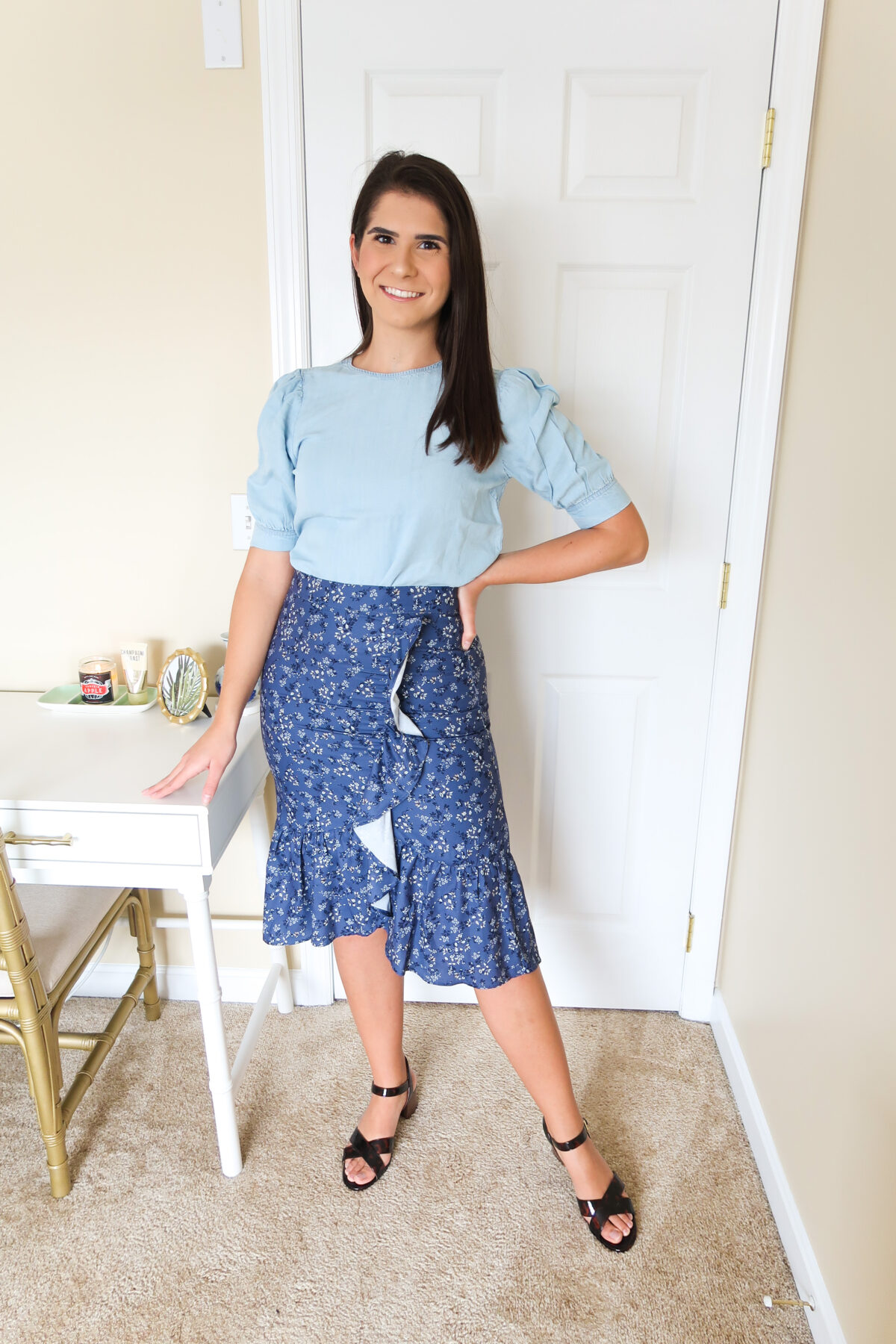 This next outfit was a mix between something I would pick out for myself while being adventurous. I've never tried a skirt like this, but I do like the idea of it as well as the print. Unfortunately, it was a tad too tight (thanks to my hips and thighs), so a M would have been better than the S I received. The top the stylist paired with it was definitely my style with the puff sleeve. However, it was super tight on my arms and a bit restricting on my chest, plus it was almost cropped which isn't the best when I would tuck it in. It was also a chambray material therefore it had no give at all. The skirt is by kensie and retails for $60.77, which I might have paid if it fit better. But this top by B.B. Dakota is $71.23, which I think is outrageous for the quality and fit. The idea for the outfit was cute, but the pieces just did not work for me.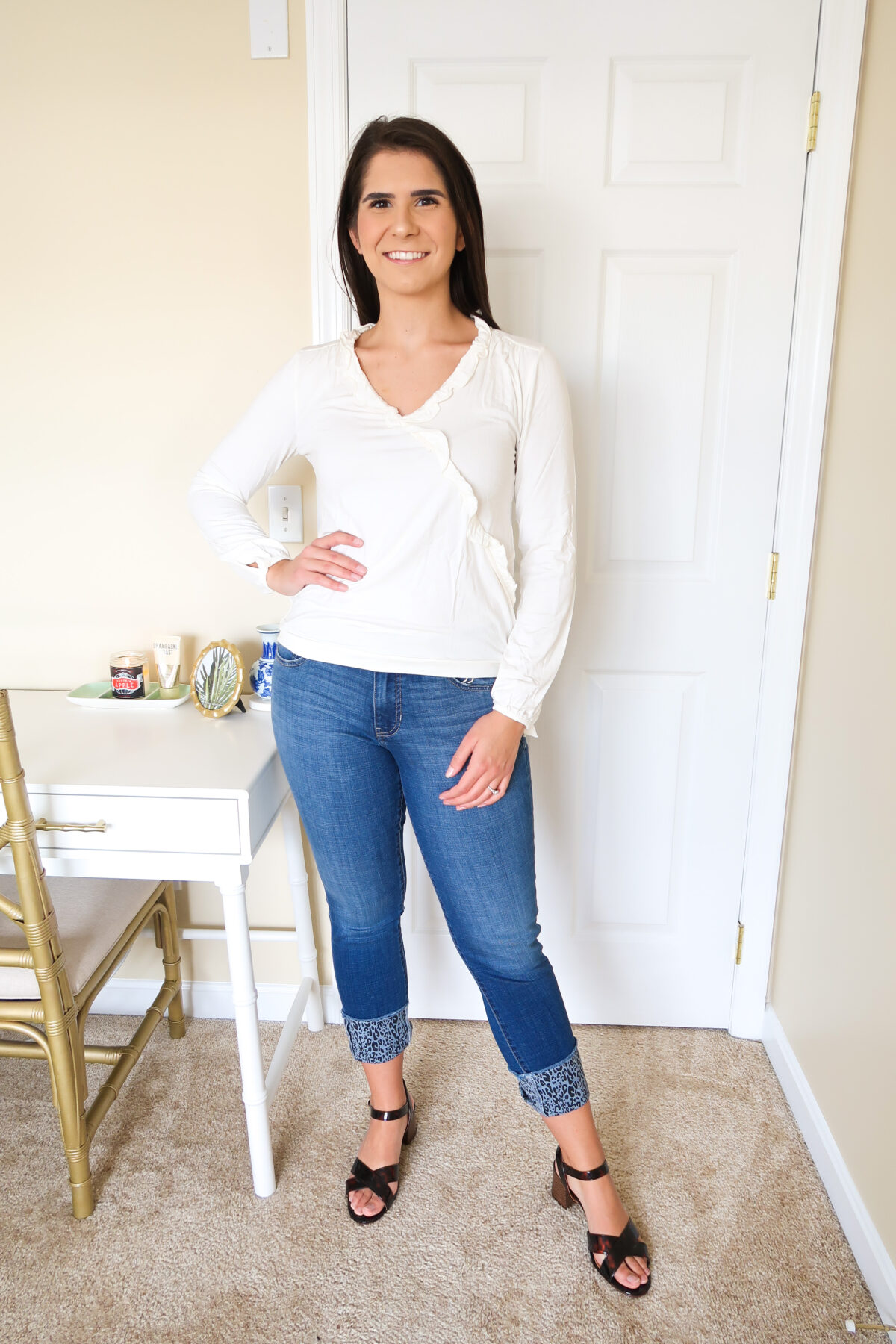 This top, also from J.Crew Mercantile, was a secondary top option for the skirt outfit above. I like the idea of the top, but it just does not lay right on my body. Additionally, I don't think it would pair well with the skirt it was suggested to go with so I would just have paired it with jeans. But it is a more affordable piece at $27.02.
What I Declined
The following pieces are ones that I declined from my stylist. I made sure to mention which "outfit" each piece was supposed to be paired with. These either weren't my style, I already owned something similar, or I just already hit my 8 piece limit and I liked other pieces more.
The Pros
Helps you possibly pick out items that you may not pick for yourself
Cheaper than other styling boxes
You can pick what you want shipped to you
You can pick price ranges for different products
Returns are easy since the return label is included
The Cons
You can't use a debit card – I don't have a credit card so this was an issue for me. They say you aren't charged for anything before you pick what you do/don't want to keep, however, they do put a hold on your account for the amount of the clothing you get shipped to you – which in my opinion is basically the same as charging you.
You can't change sizes after your quiz, there are many pieces I wish I could change sizes for before they were shipped to me because some brands I was familiar with and I knew they would run big.
Some "outfits" didn't really go together, while pieces were fine by themselves they marketed them as outfits. This makes me think that it is probably a computer matching the pieces rather than a real person.
You can't pick all of the items that are offered to you since you can only pick up to 8 pieces, my stylist had 14 items picked for me.
While writing the post I realized a lot of the prices didn't align with what the listings on Amazon currently say. Prices on Amazon are always changing, so whatever the price is at the time you order it is the price you're going to pay if you keep the item. This could work for you or against you depending on the piece.
My Thoughts
Would I try this again? Honestly, probably not – but for a good reason. Amazon does offer a service called Prime Wardrobe, it is similar to this however instead of a stylist picking pieces you can pick up to 8 pieces to be shipped to you for free and you can try them on then return them. So basically it has the other benefits of the service without the stylist and the $4.99 fee. This would solve the problem I had with sizing issues as well as pieces that were picked to go together that were not a combo I would wear.
I think this may be a good option who doesn't like shopping and doesn't know what they want, or if they just want to try something new. At the end of the day, for $4.99 I think it could be fun to try out for people who are looking for new additions to their closet. I think overall the pieces they picked were somewhat my style, the ones I ended up ordering I would definitely try on at a store. But other pieces were a bit too "old lady" for me, like the Nine West tops, while other pieces were too young, like the ripped jeans. Additionally, some of the pairings, some of the prices, and sizing were just not right for me.
What I'm Keeping
I decided to keep the black dress and the green cardigan. While I won't wear these together, I think they'll both make great additions to my wardrobe. They were both pieces I wouldn't have picked out for myself, and I was satisfied with the pieces for the price point.
Well, that was A LOT. I hope this gave y'all some insight on this service that Amazon offers. Like I said before, it is fun to try once maybe, buy using Prime Wardrobe is another great option as well. Let me know which outfit is your favorite down below and let me know what styling service to try next!
Cheers!
xoxo
Jayme
Disclaimer: This is not a sponsored post, but affiliate links are included.